I had my first orgasm when I was about 12 years old.
Right around the time when my period and hormones came in to spice up my life.
It was with the shower faucet, and it was glorious.
Ever since then, I have been chasing orgasms.
Trying to have them every chance I get because, let's be honest, those 30 seconds of bliss can feel incredible.
But not everyone has had the privilege to experience an orgasm for one reason or another, but today we will try to change that.
This article will contain all the information you need to know about orgasms: What they are, what they feel like, how many different types are there, and most importantly, how to have the most common ones.
So if you are ready, let's go.
Key-Take Aways
All orgasms are not built the same.

Orgasms are complex, elusive creatures. Sometimes you will definitely know when you've had one, and other times you'll be left to wonder if it happened or not. This is especially true if you are trying to have an orgasm by stimulating a different erogenous zone. A different zone means a different type of orgasm.

You don't need a partner to reach an orgasm or experiment.

Don't let society convince you that you need someone to have a fulfilling sex life or that you need to wait to experiment. Technology has come a long way, and there are plenty of sex toys that you can invest in that will make your sex life 10x better. Also, if someone does come along, you can show them all the cool things you've learned.

Whether or not you have an orgasm can depend on several factors.

Factors that include but are not limited to comfort level, arousal, sexual tension, hormones, emotions, medications, the influence of alcohol & drugs, etc. So if you aren't having an orgasm, consider these factors.

It can take time and practice to have an orgasm.

It can take time to figure out what feels good for you and your body. So when you start experimenting, be patient with yourself. You don't know what will set you off.
What Is An Orgasm?
While I would define it as a climatic experience that varies in intensity levels that go from relaxing to me screaming "Oh God, Oh God, Oh God," there is no one definition to describe what exactly an orgasm is.
This is because an orgasm can vary from person to person and from experience to experience.
According to the American Psychological Association, an orgasm is "the climax of sexual stimulation or activity, when the peak of pleasure is achieved, marked by the release of tension and rhythmic contractions of the perineal muscles, anal sphincter, and pelvic reproductive organs."
So an orgasm can be summed up in these words:
A pleasurable release of built-up sexual tension in the nerve endings.
What Does An Orgasm Feel Like?
Since no orgasm is built the same, there is no one explanation for what an orgasm may feel like.
Depending on what body part is being stimulated, the orgasms can feel different.
Moreover, orgasms come in various lengths, intensities, and overall quality.
Most often than not, an orgasm can be characterized by certain physical sensations such as involuntary release of muscle tension, muscular contractions, verbal and auditory emissions of pleasure, and increased heart and breathing rate.
After an orgasm, the genitals usually become very sensitive or uncomfortable to touch. While people with penises usually experience ejaculation, people with vaginas experience contractions of the vaginal wall and may ejaculate.
But if you are screaming, "Oh God, Oh God, Oh God, keep going!" You are probably on the right track.
But What Exactly Happens During An Orgasm?
Depending on your type of genitals, different things happen, but in general, your pelvic muscles contract.
For a penis-owner, when they experience an orgasm, they usually squirt semen (aka cum) out of the glans (head) of the penis. It's usually about 1-2 tablespoons, and it's called ejaculation.
And no, you don't have to ejaculate every time you orgasm, but usually, it coincides.
The orgasm for penis owners usually lasts around 15 seconds.
For vagina-owners usually experience what I like to call an internal orgasm where they don't ejaculate like penis-owners but instead experience the orgasm within their body.
Now vagina-owners can experience some fluid that squirts or dribbles out of the vulva before or during an orgasm (this is sometimes called female ejaculation, or squirting). This fluid isn't urine, just so you know; it's a mixture of different types of fluids.
Some vagina-owners experience this, and some don't. So don't freak out if you are on either side.
The muscles of the vagina and anus may contract around 5 to 8 times, and the orgasm can last approximately 20-35 seconds.
Then comes the release of the endorphins, which put everyone in a good mood and cause you either feel relaxed or sleepy.
Related Article: The Fundamentals of Owning A Vagina
How Many Different Types of Orgasms Are There?
After reading multiple articles, there are about 24 different types of orgasms, but here are the top 14 you need to know about.
Clitoral

Orgasms that are due to the stimulation of the clitoris.

Vaginal

Deeper orgasms are accompanied by pulsations of the vaginal canal walls.

Anal

Muscle contractions that you feel in the anal canal and around your anal sphincter.

Combo or Blended

This happens when stimulating the vagina and the clitoris at the same time. This orgasm can lead to full-body trembles and tremors.

G-Spot

Located on the front wall of your vagina, about halfway between your vaginal opening and cervix, the G-Spot can be identified by its slightly bumpy and ridged area.

Cervical

An orgasm that's induced by pressing against the cervix.

A-Spot
O-Spot
P-Spot
U-Spot

Receives its name from its location close to the urethra in people with vaginas.

Nipple
Exercise Orgasm/Coregasm

An orgasm that is induced by core workouts due to your pelvic floor contracting.

Multiple

Exactly what it sounds like. Having multiple orgasms in one sitting. This is easier for vagina owners because they tend to have a shorter refractory (recovery) period making it easier to reach the next orgasm, but everyone can have them.

Squirting Orgasms
Related Article: What the F**k is Cunnilingus + 5 Steps to Pleasing Your Partner
Are There Any Benefits to Having Regular Orgasms?
I am so glad you asked because yes! Yes, there is!
Having regular orgasms comes with a ton of benefits and here are just a few:
Better Sleep
Oxytocin release

The consistent release of this feel-good chemical can:

Regulate anxiety
Reduce the risk of heart disease
Reducing the risk of cancers such as ovarian cancer & prostate cancer

Prevent skin aging and preventing wrinkles by releasing estrogen
Having more orgasms can actually make you more beautiful!
If this isn't enough to convince you to have daily orgasms, then I don't know what will.
How to Have An Orgasm
Now the section of the guide you have all been waiting for.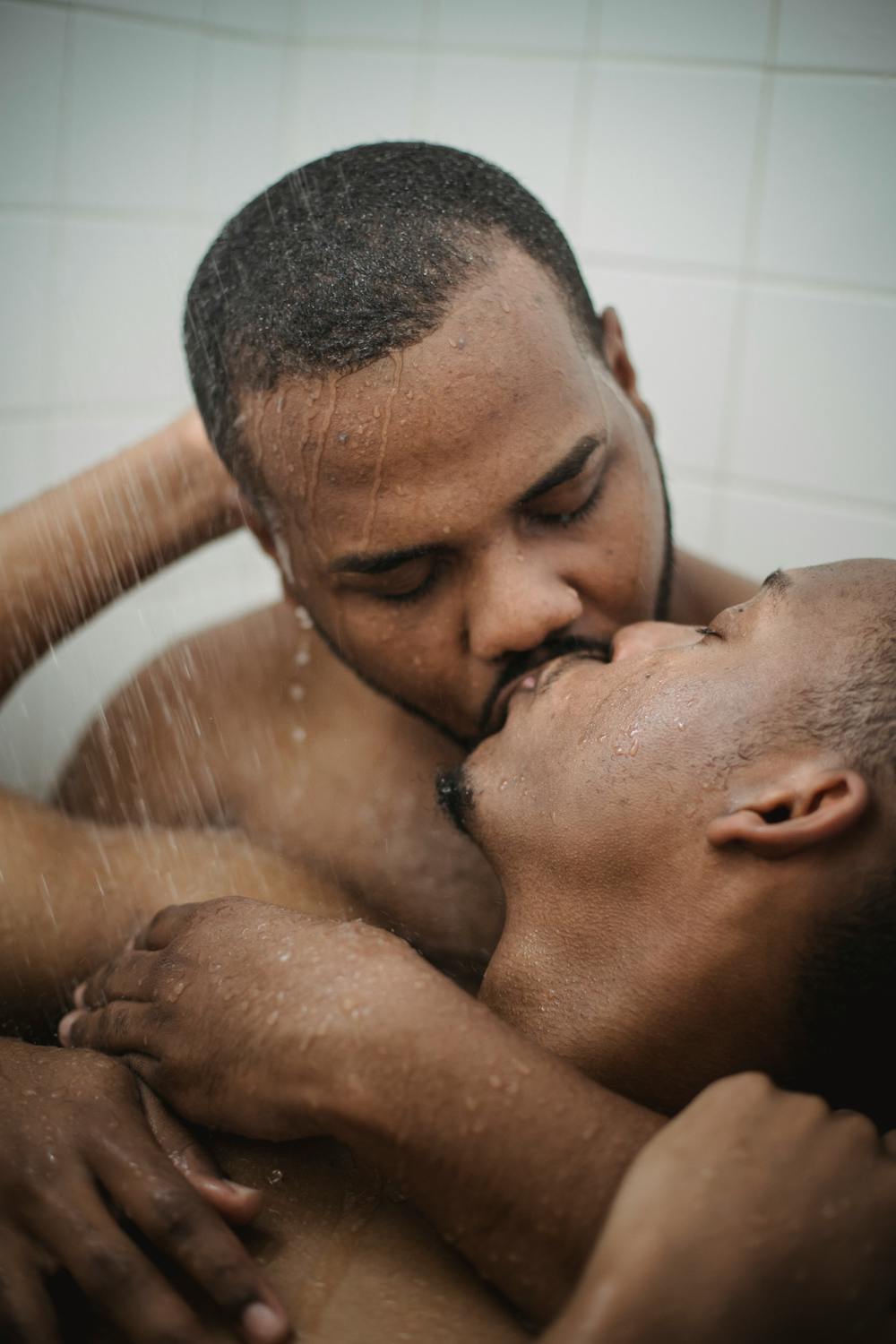 While there are more than 20 types of orgasms, I will explain how you can have the most common orgasms and eventually go into the more obscure ones later.
How to have an orgasm.
The ones I will be covering are: clitoral, vaginal, combo/blended, anal, & G-Spot.
Always start every session by getting super aroused and wet.
Don't rush into anything.
You can't rush an orgasm.
Top Tip: An orgasm for vagina-owners can be attributed to repeating motions and consistent speeds.
Clitoral
Having a clitoral orgasm is the best place to start for vulva-owners because it's the place with the most nerve endings.
First, get your vulva wet. You can get turned on and spread the wetness throughout your vulva and onto your clitoris. Or you can use your spit or add lube.
Once you are turned on and wet, you are ready to go. You will then take your index finger and middle finger and gently stroke your clitoris. You can stroke up and down, back and forth, in a small or wide circle.
When my clitoris is very sensitive, I like to ensure my index finger is wet and gently stroke the clitoris up and down, barely touching it.
Keep doing these movements until you feel a build-up of sexual tension, and when you feel like you are about to go over the edge, keep the same rhythm and let go.
Vaginal
A vaginal orgasm is an orgasm that is induced through penetration of the vagina. This can be done by penises, fingers, and toys.
Remember, less than 1 in 5 vagina-owners can cum like this, so don't feel bad if you don't fall under this category.
Get super aroused and wet. Once wet enough (through arousal, lube, or spit), you can penetrate your vaginal canal using a finger, a penis, or a sex toy.
Go slowly, and don't shove it in there. Getting the object in completely can take a few tries, so don't rush.
Once the object has entered your vaginal canal, angle it upwards toward your belly button. Using your fingers, make a "come hither" motion to stimulate the G-Spot.
You can also explore outside the vaginal canal and inside with different pressures, speeds, and temperatures.
Once you find a sweet spot where it feels incredible, repeat.
Anal
The great thing about anal orgasms is that anyone can have them! But they happen differently depending on your genitals because it stimulates different areas.
For penis owners, penetrating the anus stimulates the prostate, where the G-Spot is located.
For vagina-owners, anal sex stimulates the clitoral legs, the A-Spot & G-Spot.
Always start out by getting aroused. Getting aroused doesn't lubricate the anus, but it's better to be turned on for these activities.
Grab some lube. Since the anus does not produce its own lubricants like the vagina or penis, it is prone to tearing because the tissue is so delicate. And spit is not enough. SO GRAB THE LUBE. Preferably silicone or water-based lube.
Once it is wet, you can start by gently rubbing your fingers or using light pressure on the anus. When ready, insert a finger or tongue while simultaneously playing with their genitals.
Start with one finger, and you can move up. You have to train your anus to receive. You can't just stick a dick up there and expect it to be amazing.
Continue to experiment with tapping, circling, and pressing.
Related Article: Everything You Need To Know Before Having Anal Sex
Combo/Blended
A combo/blended orgasm happens when the clitoris and vagina are being simulated at the same time, either in parallel or opposite rhythms.
Make sure the receiver is fully aroused before adding penetration. So include foreplay and lightly stimulate their clitoris.
When they are fully aroused, add in penetration. Find a speed and rhythm that they enjoy, and make sure that one of you is stimulating the clitoris by either using fingers or a toy or, if you are in the right position, your mouth.
Keep the rhythm and speed consistent.
G-Spot
A G-Spot orgasm is one of the most common orgasms people try to achieve, and anyone can experience it!
For vagina-owners:
Be aroused and make sure you are wet. Once you are wet enough, insert a finger into the vaginal canal.
Insert the finger 2- 3 inches deep until you reach a soft, ridged area that feels similar to the roof of your tongue.
Then use the fingers to make a "come-hither" motion on the area.
This feels good for most vagina-owners. So play around and see what works best for the receiver.
For penis-owners:
The G-Spot is located in the anus, so follow the steps for an anal orgasm!
Orgasms For All!
Now, if you struggle to have an orgasm, it is not the end of the world!
There is nothing wrong with you, and don't put so much pressure on yourself.
The more you try to have an orgasm, the less likely you will be able to have one.
While orgasms are amazing, they should not be the end goal.
Enjoying and exploring your sexuality should be.
So have fun, and maybe you'll be able to catch an orgasm.
Sources