One night while I was doom scrolling on Tiktok, I came across a trend of people reacting to a guy with a raspy voice saying some questionable things on a "children application" (we all know that it's not).
I listened to the audio and was slightly turned on by it.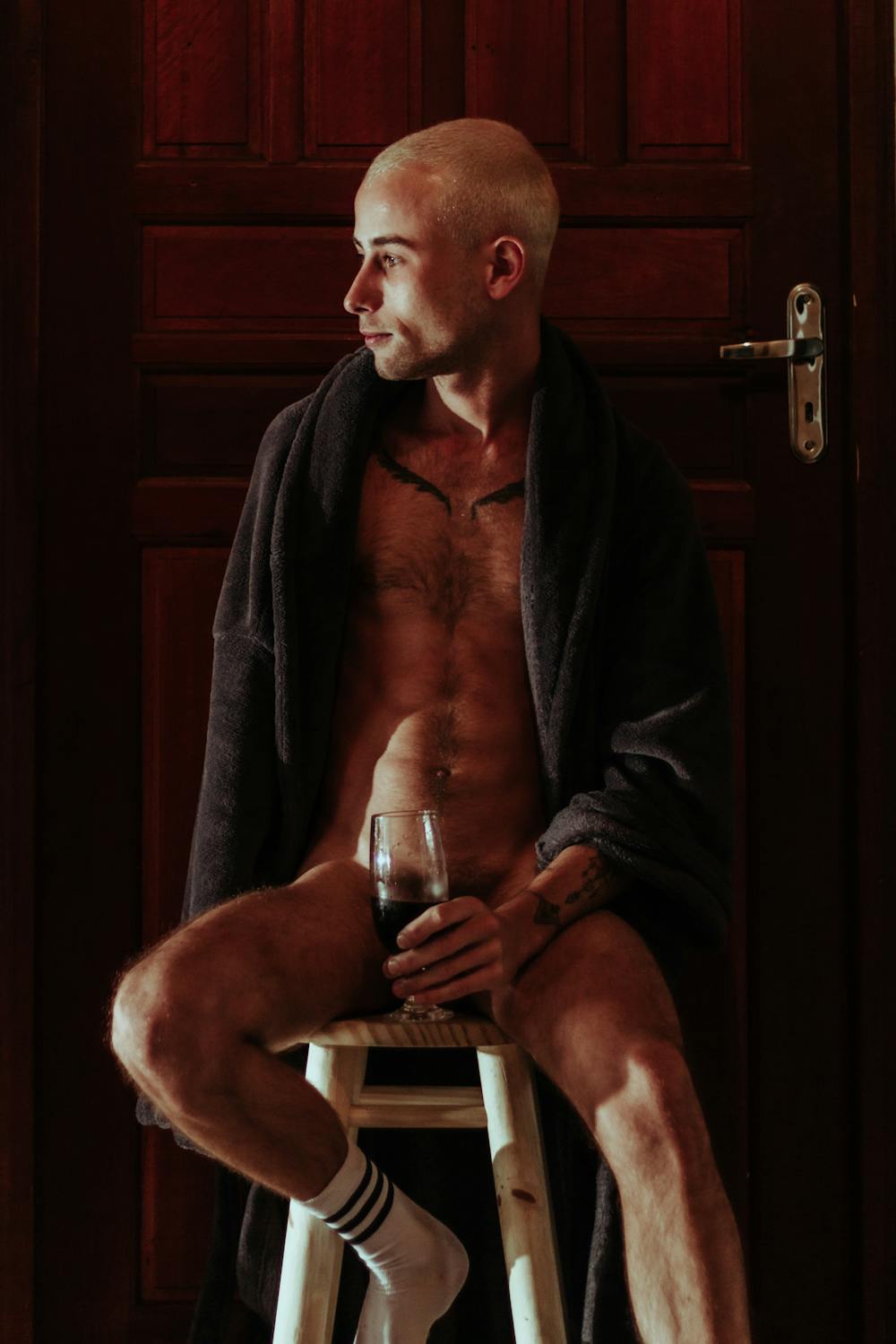 So following my curiosity (& horniness), I started scrolling through the videos linked to the sound and eventually came across a girl talking about porn for the "girlies."
She was talking about Boyfriend ASMR, how girls shouldn't feel bad about listening to it because it gets them off, and how women are constantly put down because of what they enjoy.
I was confused because I had never heard of Boyfriend ASMR.
So I started scrolling through the comments, and everyone was commenting about how much they loved it!
It made them feel safe and comfortable, especially this guy on Youtube called Professor Cal.
So letting my curiosity get the best of me, I went straight to Youtube at 1 am and listened to a man with a deep, raspy voice tell me some of the nastiest and hottest things I have ever heard.
And since then, I have been hooked on Audio Erotica.
What Is Audio Erotica?
Audio erotica is what it sounds like…erotica that you hear instead of watch.
As MindBodyGreen defines it, it is "sexually explicit audio content, usually in the form of narrated stories woven in with all the noises and sounds you'd expect from porn. There are apps and websites for it, and all you need is your device's speaker—or some headphones—for an auditory fantasy."
It's porn, but for your ears.
And it's marvelous.
My Experience with Audio Erotica
Now when I first started listening to audio erotica, I was stunned.
I wasn't sure I was 100% into it because I found the dirty talk about being cringey and inauthentic.
And don't even get me started on the sounds.
My logical brain would snap me right out of the moment when I would hear the slurping sounds of the narrator supposedly eating my pussy.
But after a while, it started to grow on me.
The dirty talking became my favorite part.
I loved hearing the hot narrator describe all the nasty things they wanted to do to me and exactly how they would do it.
If there is one thing an audio erotica narrator will do, they will describe in grave detail how they want you.
Now I understand the hype around POV porn videos. However, audio erotica makes me feel like I am with the other person.
I feel like I am part of the story.
I started to get so into the stories that I responded to what they were saying.
For example,
Them:
Are you a good girl?
Me:
Yes, I am a good girl. I wanna be your good girl.
Them:
Make me cum.
Me:
I want to make you cum. Cum on me.
Them:
Sit on my face.
Me:
Changes positions from missionary to being on top of my vibrator.
Like, who am I? Who am I doing all this for? I've become the cringey one. 
Changing My Life On Voice At A Time
But since I started listening to audio erotica, my masturbation routine has gone to the next level.
I've started having stronger orgasms.
Like I am shaking the bed and covering my mouth, my roommates don't hear me scream as I cum or respond to the narrator.
I've also experienced multiple orgasms.
I will start convulsing because I am so into what is happening between the narrator and me.
Between the moaning, the vibration of the narrator's raspy voice, and my vibrator, I can't get enough.
And I hate to say it, but it's been better than some of the actual sex I've had with men because these narrators be doing the most.
Moreover, I get to live out certain fantasies that I am too afraid to actually live out… like getting fucked in a public library and having to be quiet because we don't want to get caught.
Related Article: 4 Things I Wish I Knew Before Buying My First Sex Toy!
3 Reasons Why Audio Erotica is Better than Porn
At least, for me, it is.
While porn tends to be more male-focused and repeating scenarios, audio erotica is just different.
#1) You have more options
For example, you can choose if you want to be the main character where you are responding to what the narrator is saying and doing.
Or you can hear stories between two people.
Or You can choose narrations based on your kinks.
Do you want to be degraded, dominated, or make love?
Is there a fantasy you want to live out?
Is there someone you want to cheat with in real life but your moral code and ethics will not let you?
In the world of audio erotica, you can have whatever you want.
#2) You Can Listen In Public
Moreover, you can listen in PUBLIC, and NO ONE WILL know!
People can think you are just listening to a podcast, but you are listening to someone tell you all the ways they want to make you cum.
It's like wearing one of those vibrators in public and no one knowing!!
And yes, you can watch porn in public, but you must be careful how you position your phone and make sure no one sees you watching because getting caught is a one-way ticket to getting banned from any place you do that in.
#3) The Men are More Vocal
Do you know how most women want their men to be more vocal in the bedroom instead of silent statues?
Yeah, well, let's just say these narrators are anything but quiet.
Now I am not going to lie.
Growing up in a patriarchal society, silence is defined as manly.
So listening to men grunt and moan in passion was something I had to get used to.
At first, I found it cringey because I didn't think it was manly of them to sound like that, but now it's the hottest thing in the world.
And you get all the sounds…
moaning
groaning
kissing
oral sex
being told what to do
growling
actual sex sounds

them fingering you
penetration and edging
getting fucked from behind at different speeds.
I don't know about you, but I didn't get this from regular porn!
Cons of Audio Erotica
Now, like everything in the world, there are some cons to audio erotica.
#1) Getting used to the voices & sounds
If you are anything like me, the sounds may make you cringe at first.
Like why are they saying that?
Why does it sound like that?
Sometimes it can be enough to take you out of the moment altogether.
#2) Takes time to find the type of scenarios/narrators you like
Like regular porn, you will find some narrators and scenarios that you instantly love and others that make you double think as to why sex even exists in the first place.
The good thing is that once you find that perfect narrator and scenario, you won't be able to get enough of it.
#3) It may take you longer to get there
Since it is an audio experience and not a visual experience, your brain will have to work harder for you to reach a place of total immersion.
Sometimes that requires listening to the whole story, which can take a while.
And I get it.
Sometimes you just want to rub one out and go.
Related Article: What the F**k is Cunnilingus + 5 Steps to Pleasing Your Partner
Give Audio Erotica A Try!
Audio erotica is an auditory experience that I believe EVERYONE should try!
And guess what?
It's on the rise, so there are so many ways you can consume it.
There are plenty of free videos on Youtube!
This one is my favorite.
There are also some applications that you can download.
I really like the Quinn app because it's a more POV style and the raspy, deep voices of the men send shivers up my spine.
Plus, they cater to people of all genders and sexualities!
There is also the Dipsea app which is a more story-telling format.
Now, I totally understand if you are still on the fence about trying it.
The dirty talking and using your imagination may not be your thing, but it's worth a try.
Plus, it's a great way to keep things spicy in the bedroom! Alone or with someone else!
I like to put on a blindfold to help immerse myself in the experience.
Or if you have a partner, you can have them go down on you while you listen, or y'all can both listen to what the narrator is doing, and your partner can replicate it in real time.
Moreover, it's a great way to explore your sexuality. You can see what turns you on or off:
Listening to a man or woman touch themselves
Overhearing people have sex
Finding out that you want to be dominated  
Having sex in a public place
etc…
You never know what is going to be your thing!
Remember…
What turns you on doesn't define you as a person or your sexuality
Just because the idea of infidelity or having sex in a library turns you on and gets you off doesn't mean you will go on to do those things.
Hearing a woman finger herself doesn't make you a lesbian.
It's all about finding the sweet spot.
Sexuality is great because its a combination of fantasy and reality.
You can imagine these things going down but don't need to act them out
Audio erotica makes you try something different and learn more about your sexuality, and what's better than that?
Sources